Build Your Own Custom Ford Bronco
Our interactive Build Tool allows you to customize a Ford Bronco to your exact specifications. Need some inspiration? Check out our Past Builds for specifics and photos on our one-of-a-kind builds. Following receipt of deposit and confirmation of your Build Sheet, we'll get to work building your Vintage Ford Bronco for a fixed price.
View our
Past Vintage Ford Bronco Builds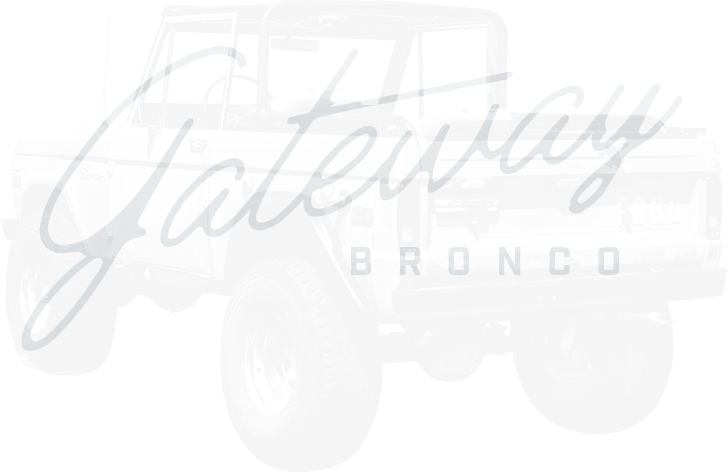 What Gateway Bronco Does
The classic Ford Bronco is a legend. A piece of American history. Our passion is breathing new life into these legends. We build these time capsules with a twist of modern performance, rugged luxury, and impeccable craftsmanship. With our client-centric design process, you'll love the finished product that is personally delivered right to your driveway, at no cost to you.
Here at Gateway Bronco, we restore the Ford Bronco through a frame-off restoration, building each truck on Henry Ford's creation, a modern assembly line. We add new Ford 302 Coyote V8 engines to every build, with 6-10 speed automatic transmissions and custom options for you to pick and choose throughout the truck to make it YOURS. Options range from paint color and finish to the leather for your interior, engine and drivetrain, and all the modern technology and features you've come to expect in your modern SUV.
Come join the Gateway Bronco family!
Contact Seth
Subscribe to our Newsletter!
Stay up to date with our latest builds, For Sale Inventory and more.