Build Your Gateway Bronco
Customize the Bespoke Bronco of Your Dreams with Our 3D Configurator
Take our 3D configurator for a test drive and build your own custom Gateway Bronco. With a rotating, 360-degree view, you'll be able to instantly visualize your custom selections. Pick from a variety of standard options or curate the build to your preferences with custom colors, wheels, leather selections and mechanical options. The first-generation Ford Bronco reimagined with modern technology.
Custom Ford Broncos
Rugged Luxury • Vintage Aesthetics • Modern Reliability
The classic Ford Bronco is a legend. A piece of American history. Here at Gateway, we breathe new life into these timeless legends by adding a twist of modern performance to a vintage body. Our vehicles are a combination of reliability, rugged luxury, and impeccable craftsmanship.
Our Consumer Centric DesignTM process starts with a conversation and ends with a personalized vehicle you'll love. We will personally deliver the finished product right to your driveway, at no cost to you. Adventure is calling, so what are you waiting for?
Gateway Bronco Models
We Offer 3 Customizable MODELS
Questions on the models or available options? Contact us.
FUELIE Edition™
$180,000
As Shown: $250,508
Specs/Options:
OEM Suspension
4-Wheel Disc Brakes
3-Year Warranty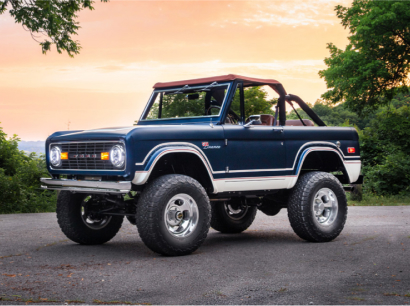 COYOTE Edition™
$250,000
As Shown: $332,156
Specs/Options:
Kincer Suspension
Active Ride Control
5-Year Warranty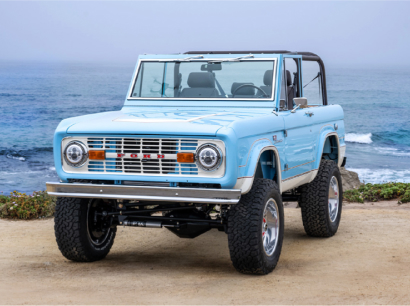 LUXE-GT Edition™
$400,000
As Shown: $662,626
Specs/Options:
Independent Suspension
Anti-Lock Brakes
Electronic Stability Control
7-Year Warranty
Glasurit Piano Finish
View our Showcase
Recent Classic Ford Bronco Builds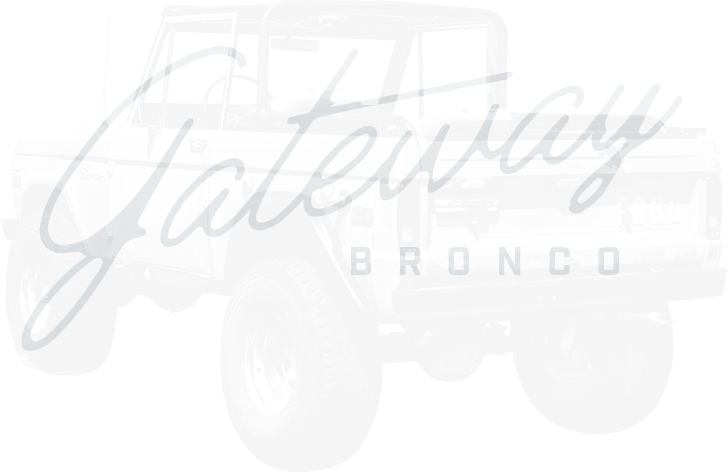 The Gateway Bronco Build Process
Here at Gateway Bronco, we restore Ford Broncos through a frame-off restoration process. We build each truck on Henry Ford's creation, a modern assembly line. We add new Ford 302 Coyote V8 engines to every vintage Bronco build, with 6-10 speed automatic transmissions and custom options for you to pick and choose throughout the truck to make it uniquely yours. Customization options range from paint color and finish to the leather for your interior. You also get choose the engine, drivetrain, and all other modern technology and features found in a modern SUV.
Come join the Gateway Bronco family!
Contact Seth
Subscribe to our Newsletter!
Stay up to date with our latest builds, For Sale Inventory and more.